Top Ten Soundtracks of the 80s
I wrote this little article some time ago, when I was hoping to get a paying gig. What they wanted was Top 40, which is fine, but I see I'm missing some of the truly best soundtracks of the decade. This will Part One and when I compile MY list of favorites (and some will be the same), I will post Part 2.

I didn't get the job either, goshdarnit! This is a mighty fine list!!!

Enjoy!!!




Top Ten Soundtracks




If there was ever a decade where music influenced the art of film, it would be the 80s. From the rain slicked streets of Streets of Fire to Madonna singing in a dingy nightclub in Vision Quest, film had become a music video and vice versa. A decade heavily predisposed to trends and fads; it was a rocking toe tapping time for movies. In one glorious year, two monstrous Top 40 songs from movies yielded Oscar Nods: Power of Love by Huey Lewis and the News from Back to the Future and Say You Say Me by Lionel Ritchie from White Nights (and won the much coveted statue). It was nearly impossible to boil it down to 10. I factored in record sales, but that wasn't a defining aspect. At least one of my Top 10 choices was a minor hit when it was originally released but since then it has gone on to cult status, making influence another factor. You may also notice that I omitted The Breakfast Club because although Don't You Forget About Me by the Simple Minds may well be the apex of 80s teen angst, not one hit single does a good soundtrack make. The final, most important element is that the following 10 listings are classics. Pure and simple.


Valley Girl
- A cult classic that barely made crossed the nadir in 1982, the original LP soundtrack was only released for two weeks upon its initial release. Through the years, the movie and the music eclipsed its minor box office grosses and became a favorite time capsule for the post-punk movement. Full of favorites and a few wonderful obscurities, Valley Girl is a must for anyone interested in the music of LA circa early 80s.
Lost Boys
- A box office breakthrough, this movie made Kiefer Sutherland a star and it boasted an awesome soundtrack to boot. Echo and the Bunneymen and Roger Daltry put in some good time, but it was the melancholy and supremely melodramatic
Cry Little Sister
by Gerard McCann that captured what hell being a teenage vampire must be.
Footloose
- An incredible soundtrack that garnered one hit after another, this is a look at 80s Top 40 at its best. A nice range of pop tunes from
Let's Hear it For the Boy
by Denise Williams and of course, the theme tune by Kenny Loggins, makes the
Footloose
soundtrack one of the catchiest feel good records of a generation.
Pretty in Pink
- This is a beautiful soundtrack full of songs capturing the splendor and pain of being a teenager. Who doesn't remember Ducky sitting on that old mattress listing listlessly to the Smiths
Please, Please, Please Let Me Get What I Want?
An eclectic array of postmodern tunes, this is must for anyone who remembers anguish of growing up.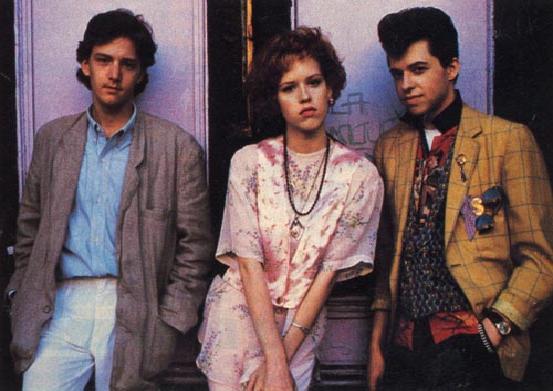 Fast Times at Ridgemont High
- A movie that transcended the teenage sex comedy and a soundtrack that accompanied Amy Hecklering's wry image of relationships and youth,
Fast Times'
best songs are the ones that celebrate the beauty of adolescence.
Somebody's Baby
by Jackson Browne aptly implanted an ironic image of innocence lost while capturing Jennifer Jason Leigh's girl-next-door appeal.
Miami Vice
- The show that changed the face of television as we know it,
Miami Vice
not only made episodic dramas super cool, but the soundtrack generated one hit after another. Glenn Frey's uber-atmospheric
You Belong to the City
made a generation yearn for pastel blazers and Florida.
Dirty Dancing
- "Nobody puts Baby in the corner!" The same could be said for this incredible soundtrack from a movie that started a movement known blissfully as
Dirty Dancing
. It also cemented Tom Everly as a 60s crooner who still had the power to move us with his voice. But most importantly, it proved that Patrick Swazye could belt out a romantic ballad as good as anyone else.
She's Like the Wind
was an amazing breakthrough hit for the actor who was just reaching the pinnacle of his success. Each song is delightfully melodic and a real treat for nostalgia hounds.
Top Gun
- There goes Kenny Loggins again. He was the leader in soundtrack hits in the 80s and rightfully so.
The Danger Zone
was a rollicking rock hit. But it was Berlin's sweeping ballad
Take My Breath Away
that brings forth the memory of Cruise and McGillis' bittersweet romance. Berlin's song was also nominated for an Oscar and is still as stunningly poignant now as it was in 1986.
Purple Rain
- Already established as an incredible (and incredibly sexy) artist, Prince's acting debut and subsequent soundtrack to
Purple Rain
is one of the most incredible pop endeavors of the 80s. From R&B to rock to pop, the enigmatic Prince belted out one striking tune after another.
Let's Go Crazy
is the best track but
Darling Nikki
, about an overheated nymphet, drives home that hypnotic sex appeal that made Prince a star then and now.
Beverly Hills Cop -
Man, this soundtrack is smokin'! Some of the best hit singles came of off this energetic record. Glenn Frey easily captures the fun of 80s cop movies with
The Heat is On
. Although the best song on the record goes to the Pointer Sisters addictive
Neutron Dance
, with its pithy electro sounds, lest we forget Harold Faltermeyer's subtle instrumental
Axel F
, which was a huge success and paved the way for instrumental pop songs on the charts.